Meet our new partners in the control of invasive species and undergrowth at Sandra Richardson park.  The goats are owned by Mike Mourer of Twin Willow Ranch located near Milan, Michigan.
Goats are a great natural source for controlling undergrowth in open land areas.  These goats are a Boer breed that originated in South Africa around 1900. Their name is derived from Afrikaans (Dutch) word boer, meaning farmer. (reference Wikipedia).  Boer goats are popular for their meat.   According to Mike, goat meat is consumed more the any other meat around the world.
Twin Willow Ranch has about 50 head of goats and Mike uses the goats in a dual management role.  As you may know, goats are known to eat almost everything, including poison ivy.  They are especially valuable for controlling the invasive species of plants that continue to take over open land areas.  With using goats on yearly basis, they become a valuable natural source of land management, especially for park land such as Sandra Richardson park.
In the dual management role of his ranch, Mike raises the goats for meat and rents out the goats, for about 20 years now, to manage areas of land owned by Universities, State and local Townships.   Twin Willows Ranch benefits from the meat of the goats and by renting them out, they are producing a second income for the ranch.  A third benefit from the goats is the land owners who have use the goats as part of a land management process.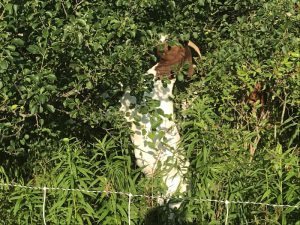 Working with Mike and Twin Willow Ranch has been a very pleasant experience.  Seeing the goats munching away on the underbrush and sometimes standing on their back legs is fun to watch. The York Township Park's Committee looks forward to working with Twin  Willow Ranch as a great, natural resource for managing areas of Sandra Richardson and Mary McCann Parks.
For more information on the use of goats and Twin Willow Ranch contact Mike Mourer at 734-439-8170
Or e-mail him at TwinWillowRanch@hotmail.com
Or visit his Facebook page at Twin Willow Ranch
For more information about this article and York Township Parks phone 734-439-8842
Article written by Paul Fairchild
Chair – York Township Parks & Recreation Committee
http://ytpr.org/wp-content/uploads/2015/02/logo1-300x75.jpg
0
0
Paul Fairchild
http://ytpr.org/wp-content/uploads/2015/02/logo1-300x75.jpg
Paul Fairchild
2018-07-23 13:57:57
2018-07-23 13:57:57
Meet Our New Goats