Park Announcements and Alerts
York Township's Sandra Richardson Park was the lucky recipient of a Little Free Library from the Village Painters, Livonia, on August 16, 2016. They donated the Library box, which was built by Rich Handley and painted by Sherri Redd. The artist beautifully incorporated paintings from the story "The Rainbow Fish" by Marcus Pfister as inspiration for the exterior of the little free library.  Pat Butler, the community project coordinator for Village Painters worked with YTPR committee member Kathy Fischer to find a good spot for the box. It was installed between the parking lot and pavilion off the Platt Road entrance in Sandra Richardson Park. There are many great books in the box, come and take or trade one to keep this great benefit available for all.
Dedication ceremony for SRP Little Free Library
http://ytpr.org/wp-content/uploads/2015/02/logo1-300x75.jpg
0
0
Ilene Smith
http://ytpr.org/wp-content/uploads/2015/02/logo1-300x75.jpg
Ilene Smith
2016-09-13 20:44:31
2016-09-15 11:43:20
Little Free Library comes to Sandra Richardson Park!

Check out the new trail marker system in SRP.  The design of the system broke the current pathways into four lengths or "loops".  The yellow loop is the shortest, followed by green, then red, which goes through the woods and finally blue which is the longest and also goes through the woods.   Park maps at Platt Rd and Willis Rd parking lots are new and reflect the colored trail loops.  Please note that the current pathway layout at SRP combines, at different points, multiple colored loops along the same pathway.
When you enter from the parking lot, please take a look at the park map.  Notice how the loops overlap in spots.  For instance, starting at the Platt Road park map, please notice the marker post with four solid line colors on it.
This marker indicates the starting point of all four loops and therefore show four solid color bars.
Along the way you'll see different markers showing loop directions if a colored loop is splitting off.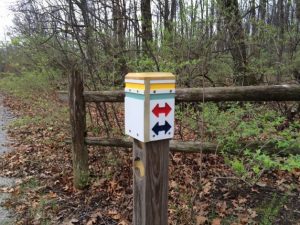 Here you're standing on the yellow and green loop.  Red & blue loop will go into the woods or you can continue on the yellow/green loop.
Other signs you'll see along the way are below.  Again follow colored arrow on the colored loop of your choice.
Some other signs we have added to the park are:
Shown below are Pete and Norm installing a trail loop marker and a Maintenance Area sign.
For those of you who are new to our parks, we hope the new trail marker system is simple for you to use and helpful.  To all, we hope you continue to enjoy our parks and use them to take a walk, run or just get out and enjoy the beauty.
Paul Fairchild
Chair – York Township Parks and Recreation Committee
http://ytpr.org/wp-content/uploads/2016/06/TM4.jpg
501
669
Paul Fairchild
http://ytpr.org/wp-content/uploads/2015/02/logo1-300x75.jpg
Paul Fairchild
2016-06-16 14:40:14
2016-06-16 14:40:14
New Trail Marker System for Sandra Richardson Park
MONARCH BUTTERFLY
The Monarch (Danaus Plexippus) is one of our most beautiful butterflies. They are colorful, graceful, one of our major pollinators and a lovely sight to see.  The Monarch chrysalis is a beautiful green and gold pod.  Have you noticed fewer cruising in your yard and garden than in past years?  At one time they could be counted in the billions but currently the count is more like a few hundred thousand that migrate in the fall every year to Mexico then return in the spring in an adventure that is very hazardous.  The Center for Food Safety (centerforfoodsafety.org) monitors the Monarch and has stated that it is in danger of extinction.
Why do we care about Monarch Butterflies?  We care about all insect pollinators because without them we would not have the fruits, vegetables and nuts, etc that we need to survive and Monarchs make up a large percentage of that group.
What can you do to help? The Monarchs depend specifically on Milkweed plants for laying eggs and sustaining the caterpillars when they hatch. It is the only plant they will eat so without milkweeds there would be no Monarchs.  Current farming methods and the desire for great expanses of residential lawns have eliminated huge areas where milkweeds can grow.  But you can help by planting milkweed in your perennial flower beds and any other space you have available.  The Common milkweed, Swamp milkweed and Butterfly milkweed are hardy in our area and equally good for Monarch food and nectar. The adult Monarchs collect nectar from many plants and trees so maintaining a variety of blooming perennials in your yard and garden is also helpful.
For addional information about the Monarch Butterfly, check the following websites:
livemonarch.com, nature.org, and monarchwatch.org or books at the Saline District Library: Monarch magic! : butterfly activities & nature discoveries/Lynn Rosenblatt(ages 4-12),
How to raise monarch butterflies : a step-by-step guide for kids / Carol Pasternak,
The monarch butterfly / by Judith Pinkerton Josephson ; edited by Judy Lockwood
http://ytpr.org/wp-content/uploads/2015/11/monarch_butterfly.jpg
229
345
Joann Black
http://ytpr.org/wp-content/uploads/2015/02/logo1-300x75.jpg
Joann Black
2015-11-22 21:40:13
2016-07-03 20:15:20
MONARCH BUTTERFLY
Sorry, no posts matched your criteria